Municipal Applications - Monthly Job, December 2004
Job: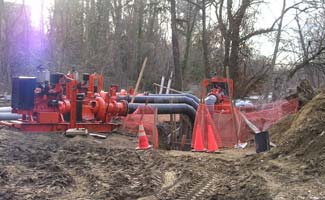 Cured-in-place pipe reliners, En-Tech Corporation, Cloister, NJ, completed an interceptor rehabilitation project in southeastern PA with Godwin Pumps providing the bypass pumping system. Godwin sales engineers walked the job over a four-month period prior to startup to study flow changes and historical flow data obtained from a nearby pump station. As a result, the local Authority, the contractor, and Godwin together determined that the bypass needs were larger than initially planned. The job scope changed over the design / bid / implementation process, starting with a 10 mgd requirement, changing to 20 mgd, and resulting in a 25 mgd pumping system.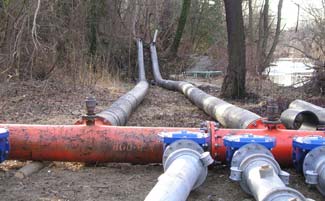 At startup, the bypass encompassed a 1/4 mile stretch of 48" reinforced concrete wastewater line. The pumping system utilized four 12" Dri-Prime pumps positioned one manhole before the entry point of the relining crew. Twelve-inch Godwin Quick Disconnect (GQD) pipe connected the pumps to the manifold and into two 1700-foot, 18-inch HDPE pipelines which discharged downstream, diverting the wastewater back into the existing sewer line. Flow during peak morning hours demanded two additional 12-inch Dri-Prime pumps, so a third discharge line was added to take the bypass system's capabilities to 25 mgd.
Municipal Application Examples