What is Dri-Prime?
The Godwin Dri-Prime family of automatic self-priming pumps are always ready to go. No priming, no worries-our unique design means you can start dry and run dry without any damage.
The Dri-Prime self-priming system has no moving parts and requires very little maintenance. All Dri-Prime pumps have a number of features designed for longer life: a cast chromium steel impeller, oil-bath mechanical seal, 25 percent cast chromium steel wear plates, and more.
You can also set Dri-Prime pumps to run automatically, so that they kick on when they're needed and shut off when the water level is down. That's true for both diesel and electric models, thanks to our PrimeGuard controller, a state-of-the-art control system with automatic start/stop. If you've ever had to venture out in a late-night rainstorm to prime a pump, you'll appreciate the automatic self-priming features.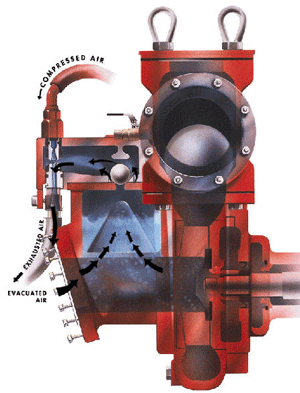 Godwin Dri-Prime Features
Venturi air evacuation:
28' of vacuum lift
No moving parts
Requires no product for priming
Continuously operational
Re-primes automatically
Straight line suction:
Improved flow pattern
Better solids handling
Increased pump efficiency
Oil bath mechanical seal:
Indefinite dry running
Allows pump to prime from dry
Solid silicon carbide rotating and stationary elements
Isolated from pumpage
Cast Chromium Steel Impeller:
Will not shatter
Longer wear
Superior material of construction