Godwin PrimeGuard Controller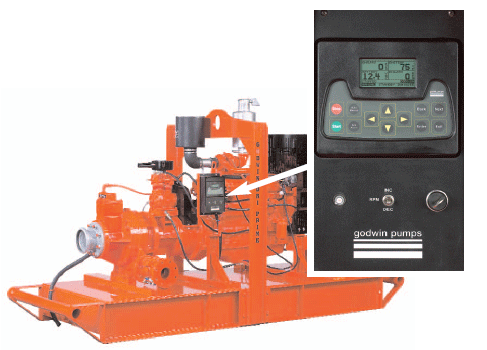 Godwin's diesel driven automatic Dri-Prime pumps now include the Godwin PrimeGuard Automatic Level Control system on all Tier II electronic diesel engines. The Godwin PrimeGuard is a fully programmable microprocessor engine control system allowing for inputs from level, flow, pressure transducers or standard floats. Using any of these systems, your Godwin Dri-Prime pump can start and stop automatically with no operator intervention required. Call today for more details about Automatic Level Controls for your portable/permanent pumping application.
Features
High performance, state of the art, touchsensing digital controller.
No mechanical switches to wear or stick.
Manual, automatic, or remote starting capabilities.
Security levels allow limited to full access of controller functionality.
Includes 8 programmable relays and 66 selectable features, including pump running, pump failure, and others.
RS-232 and RS-485 communication ports enable communication with SCADA and other alarm equipment.
Available as an option for non-electronic diesel engines.
Capable of auto throttling engine rpm in response to changing pressure/level/flow transducer signals.
Maintains an "event history" of all warning alarms (up to 32).
User can pre-set engine rpm to maintain flow and head parameters when running unattended.
Tracks oil and filter usage and alerts operator when replacement is recommended.
Diesel engine warm up/cool down cycle available.
Godwin PrimeGuard Controller Basic Operation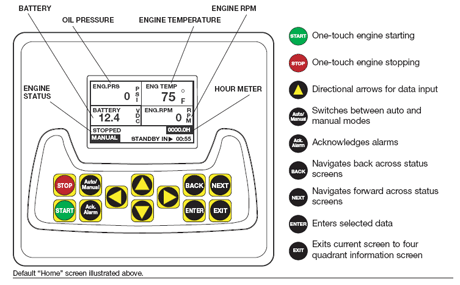 Godwin PrimeGuard Connector Layout