Municipal Applications - Monthly Job, July 2004
Job:

Work began on this sewer bypass project in Prince William County, VA, in November 2003 and was completed in the spring of 2004. In order to dig and replace 6000 feet of existing sewer pipe, the pumping system was installed and dismantled from four different locations while the general contractor replaced sections of the permanent pipe along a one-mile stretch of road.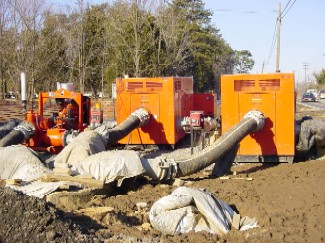 Three pumps were used on the bypass. Two critically silenced DPC300 Dri-Prime pumps, running off a double contained 500 gallon fuel cell, functioned as primary and secondary pumps to handle flows from 4 mgd to 10 mgd; one open DPC300 Dri-Prime pump served as 100% back-up. Godwin automatic level controllers were used on all three pumps.
To prevent freeze-up during winter's severe cold, a 20 kW generator was used to supply continuous power to electric heat tape wrapped over the suction lines and discharge piping. The generator also powered block heaters and trickle chargers to guarantee the secondary pump would start during intermittent flows, and the back-up pump would start if required.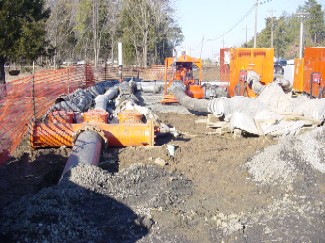 Godwin's Marlboro, MD rental branch worked with the general contractor to install the pumps and piping system. Two hundred feet of 12-inch Godwin Quick Disconnect discharge pipe connected to a 3- x 12-inch inlet manifold and discharged into the manifold's single 18-inch outlet through 2000 feet of Godwin fused 18-inch HDPE pipe. Impressed with Godwin's equipment, service, and "can do" attitude; the general contractor purchased a new 6-inch Dri-Prime pump for smaller sewer bypasses.
Municipal Application Examples