Temporary Fire Pumps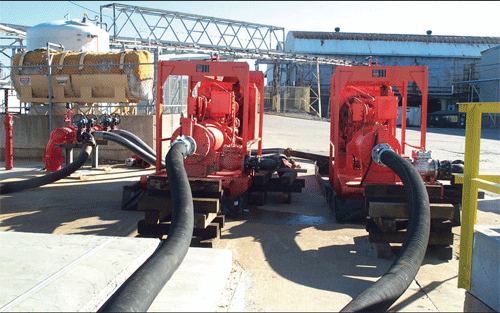 Godwin's line of high pressure fire pumps are the perfect solution for temporary, standby fire equipment pumping needs. Fully packaged systems from hose reel to hydrant applications satifsfy even the most sophisticated requirements. Our comprehensive range of Dri-Prime pumps handle flows up to 5,000 GPM (1140 m3/hr.) and pressures to 265 PSI (18 BAR). Materials of construction are specified to suit either fresh water or salt water. To ensure quality and reliability, all units are fully tested prior to shipping. Add the capability for remote starting based on line pressure drops, automatic priming with no operator assistance, and the ability to run dry indefinitely, and you'll soon discover that Godwin provides the best portable temporary fire pumps in the industry.
Features
Discharge pressure to 175 psi (16 BAR).
Diesel or electric drive.
Automatic Dri-Prime priming with up to 28' suction lift.
Manual or automatic pressure controls for remote starting
Jockey pumps available to maintain system pressure.
Field proven record of service in refineries, chemical & power plants, paper & steel mills, and other industrial applications
Cast iron or stainless steel construction available.
Meets NFPA 20 requirements.
Flows up to 5,000 gpm (1,140 m3/hr.).
HL Series Dri-Prime Pump Curves