Municipal Applications - Monthly Job, July 2003
Job:

Seven 16-inch Godwin CD400M Dri-Prime® pumps were utilized in two bypass systems recently in Maryland. The two independent systems operated during a trenchless relining project of a 54-inch gravity sewer.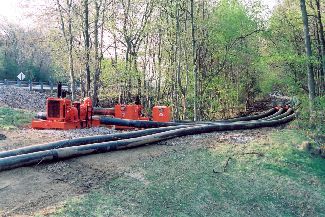 The first system set up adjacent to a major highway consisted of four pumps - two primary and two lag. All four pumps handled a flow of 33 mgd at 27 feet of TDH. Adequate venting needed to be addressed throughout the system because of a minus 90-foot differential between the suction and discharge manholes. The 14-day set up was also challenged by 70 mph traffic flow along the highway where the 18,000 feet of 18-inch HDPE pipe was installed.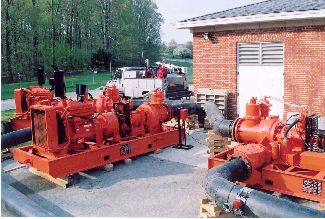 The second system was installed to handle possible elevated flows during remediation at a nearby wastewater treatment plant. The system was designed to pump from the station wet well to a holding pond. Three 16-inch pumps were utilized, one primary and two lag. All three pumps handled a flow of 30 mgd at 26 feet of TDH.
Duration of job was approximately two months. The system was dismantled in three days.
Municipal Application Examples