Municipal Applications - Monthly Job, March 2006
Job:
When a local utility company's fire pump went down in the late evening hours, the company knew just who to call - Godwin. Godwin's Sales Engineer in the area visited the site and planned a solution to cover a duty point of 1,800 GPM at 150 psi discharge pressure. Since pump suction was to be fed from the city water supply measuring 40-50 psi, his solution planned to generate the remaining 100-110 psi (231-254 feet TDH) needed.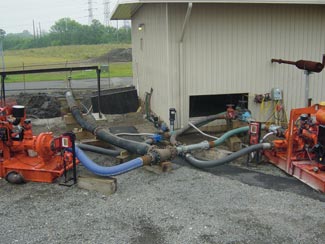 The next day Godwin delivered an HL6M Dri-Prime pump with accessories necessary to plumb it into the utility's existing fire pump suction and discharge headers. Using the utility's existing jockey pump and pressure relief valve, the team had the HL6M pump properly installed and running by early evening. As a result, the utility had successfully implemented a qualifying temporary backup system in 24 hours and could plan a replacement strategy for the downed permanent pump.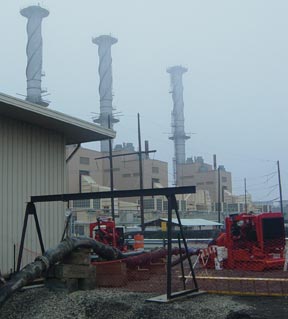 A few months later, the utility was still waiting on its replacement for the first fire pump when the second permanent pump was determined irreparable during a routine exercise of the fire system. While investigating its replacement strategy, the utility discovered that the main water supply to the fire pump building had been leaking and was getting progressively worse. Another call to Godwin resulted in the delivery of a second fire pump, an HL5M pump, with both jockey pump and pressure relief valve. Over the next two days, Godwin's team moved and reassembled the entire fire pump system outside of the fire pump building so repair on the permanent suction line could begin. Although water to the suction line had to be shut off during repair, the utility was able to use QD pipe to provide water to the affected zone.
With replacement pumps not likely to be installed before the first winter freeze, Godwin responded once again, moving the entire system back into the heated fire pump building, utilizing the repaired piping and existing connections. That winter the utility purchased the entire Godwin system, which continues to provide fire protection for the facility today.
Municipal Application Examples