Municipal Applications - Monthly Job, June 2002
Job Description:
Sewer bypass required during the replacement of a combined sewer overflow regulating structure.
Location:
Chester, PA
Contractor:
Stoneridge Construction, Feasterville, PA
Pumping System:
Three 6-inch Godwin CD150M Quiet Vandal-Pac units - one to bypass the sanitary flow and two to handle the storm water flow. The Quiet Vandal-Pac units were selected for the security protection needed on this particular job site. In addition, two sets of Godwin road ramps were utilized on the job to keep two one-way streets open in the neighborhood while the work took place.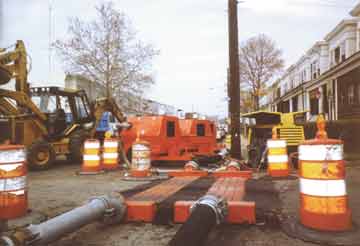 Municipal Application Examples