Municipal Applications - Monthly Job, February 2006
Job:

The characteristics that define Godwin Pumps - reliability, responsiveness and reputation - are shaped by Godwin Pumps employees as well as its distributors. In 2005, Godwin Pumps distributor Heartland Pump Rental & Sales, Inc. (Heartland Pump) contributed to the cause when it delivered 16 pumps to a contractor from Florence, AL that was doing work for the City of Memphis (TN) Division of Public Works (City of Memphis).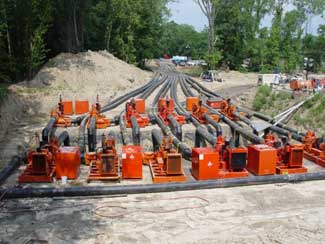 In early 2005, the contractor was scheduled to begin a bypass that involved discharging 83,000 GPM from two 84" sewer lines 900' downstream into a 96" line. The 96" line needed roughly 684' of repair that required bypassing raw sewage while the inside of the line was relined with gunite. Just as the job was getting ready to begin, Memphis was plagued by rainfall that flooded the project site and postponed the bypass for several months. When the weather cleared and the City of Memphis and the contractor were ready to resume site preparation, they found themselves without a pump supplier. Having bypassed many projects over the years directly for the City of Memphis, City employees were pleased that Heartland Pump answered the call.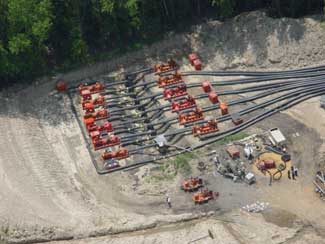 By the end of May, Heartland Pump delivered twelve 18" x 16" CD400M Godwin Dri-Prime pumps, two 8" CD225M Godwin Dri-Prime pumps, and two 8" Godwin Heidra 200 hydraulic submersible pumps. The CD400M pumps manned the sewer main repairs, the CD225M pumps fed a 36" line into an 84" line and the Heidra 200 units kept the other 84" line free of excess infiltration and water being used in the relining process. The project wrapped up in mid-July, leaving both the City of Memphis and the contractor pleased with the finished product.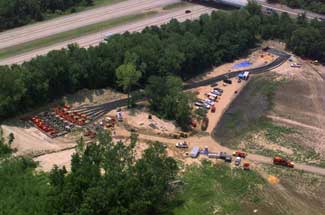 "Regardless of how we become involved in a project, our goal is always the same. We expect to achieve complete customer satisfaction, and we succeed in delivering that through responsive and reliable people and equipment," said John Payne, Vice President, Heartland Pump Rental and Sales, Inc.
Municipal Application Examples