Construction Applications - Monthly Job, December 2006
Job Description: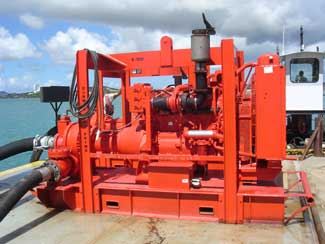 Marine contractors specializing in applications such as jetting on dredge heads and hoppers and specialty applications like installation of sub sea power and communication cables require pumps that can push a reasonable amount of water at extreme discharge pressures. As Tim Paquette, Project Manager for Durocher Marine Division says, "In underwater cable installation especially, you can never have too much volume or pressure. Engine speed can be adjusted to changing sub bottom conditions, but it is a great feeling knowing that when burial conditions become difficult, the Godwin HL160M pump will always get the job done."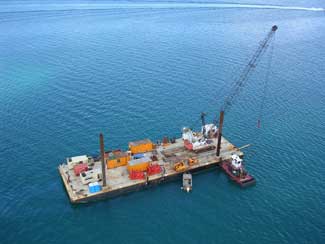 Paquette and his Durocher Marine Division crew put the HL160M Dri-Prime to the test in a recent power cable and waterline installation in Antigua. Durocher buried 13,000 ft. of 15KV power cable and 4-in. waterline using an eductor (cable burial sled) powered by two Godwin HL160M pumps. The eductor uses water and air to create a trench in which the cable bundles could be buried. The HL160M pumps worked to move 3,600 GPM at 206 psi to cut a 24-inch wide trench approximately 24 in. to 72 in. deep, depending on bottom conditions.
Paquette says, "The HL160M pump significantly stepped-up the performance of our cable sled."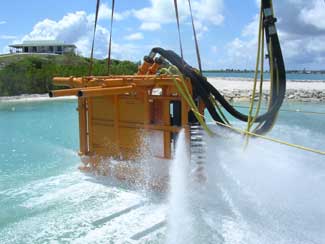 Godwin's HL160M overshadows its multi-stage competitors because it does not need to be manually primed and was designed to be more portable/flexible for users. The secret behind its performance is its 20-inch diameter impeller. Where multi-stage pumps use multiple, smaller impellers, the HL160M pump's 20-in. impeller is capable of generating greater pressure at greater depths-a perfect fit for marine construction.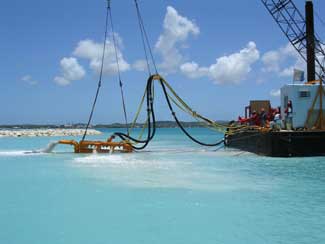 Developed and supported by people with years of hands-on experience including engineers, skilled road mechanics and applications and quality control specialists, Godwin's HL160M pump is the extreme high head pump-of-choice.
Construction Application Examples