Environmental Applications - Monthly Job, August 2004
Job: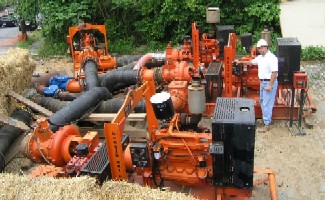 A New Jersey sewer authority recently completed a complex rehabilitation of portions of its 100-year-old sewer system. The oval 42-inch, 64-inch, and 69-inch brick sewer pipes were relined with a cured-in-place liner. Spiniello Construction of Morristown, New Jersey, installed the liner. A New York environmental engineering consulting firm completed the design and site inspection. Godwin Pumps provided the bypass pumping system to keep the sewer on-line throughout the renovation.
The project required three of Godwin's 12-inch automatic self-priming DPC300 Dri-Prime® diesel pumps - two primary and one standby - to divert flows of 10 million gallons per day through the main interceptor. An additional two Godwin 8-inch CD225M and three Godwin 6-inch CD150M Dri-Prime pumps handled flow from the tributary lines and also pumped water to cure the liner.
Environmental Application Examples