Trash Handling Portable Submersible Pumps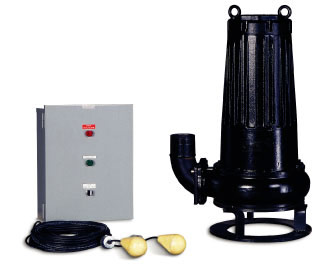 Portable submersible pumps designed for large volumes of trash laden and contaminated water. Explosion proof models available. AFPT-EX is FM approved for CLASS 1, DIVISION 1, GROUP C & D locations.
Special features - "Seal-minder" moisture detector, contra block cutting system, oversized double row ball bearings, cast iron construction, stainless steel hardware, guaranteed to run dry.
Pump comes complete with 30' of cable and manual control.
Optional features - Stainless steel or rubber coated hydraulic parts, tandem connection, automatic controls.
Guide rail assembly available for mining applications.
Stainless steel models available.