Hydrostatic Pressure Pumps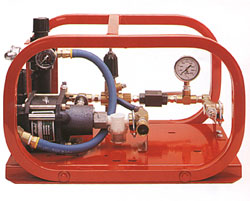 Compact, versatile, air driven units are manufactured with the high quality and durability you have come to expect. Available in a range of 500 to 10,000 psi.
Designed for long life and maximum performance, these pumps are protected in a steel roll cage, with premium high pressure fittings. Lightweight and portable, this high pressure unit is ideal for tight spots and remote locations.