SSS Series - All Stainless Steel Centerline Dewatering Pump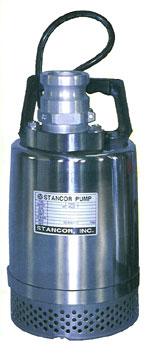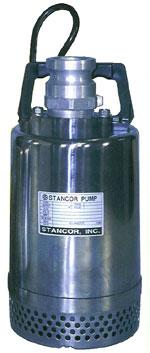 MODELS SSS-75 and SSS-100
All Stainless Steel Centerline Dewatering Pump
Design Advantages:
Stainless steel construction
Double mechanical seals run in a separate oil-filled compartment. Outboard lip seal helps prevent solids from infiltrating primary sealing unit.
Thermal overload protection.
Diffuser made of solid silicon, prevents wear and resists chemical attack
Applications:
Telephone and Utility transformer vaults
Mining
Excavation and construction sites
Chemical transfer
Cooling towers
Leachate clean up
Quarries
Septic Systems
Any applications requiring heavy-duty pumping with corrosion resistance
Optional Equipment:
Automatic version available with piggyback float or control panel & float.
Head/Flow Graph
Pump Data
SSS-75
SSS-100
Pump Discharge Size
2"
2"
Impeller Type
semi-open
semi-open
Strainer Opening
1/4"
1/4"
Weight (lbs.)
26
33
Maximum Head (ft.)
39
60
Maximum Flow (gpm)
80
90
Motor Data
SSS-75
SSS-100
HP
.75
1
Voltage V (current FLA) 1 phase
115/230 (6/3)
115/230 (11/5.5)
Voltage V (current FLA) 3 phase
230/460 (4/2
Rates Speed RTM
3450
3450
Insulation Class
F
F
Construction Materials
SSS-75
SSS-100
Outer Casing
stainless-steel
stainless-steel
Motor Housing
stainless-steel
stainless-steel
Impeller
stainless-steel
stainless-steel
Diffuser
solid silicon
solid silicon
Fasteners and Strainer
stainless-steel
stainless-steel
Mechanical Seals
silicon carbide
silicon carbide
Elastomers
Viton
Viton