Slurry pumps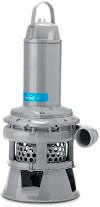 5000 series slurry pumps
This range of pumps is intended for use in the most abrasive applications where transportation of solids is the main operation and the water is merely the carrying fluid.
Capacities range up to 350 litres per second (5500 Usgpm) with heads up to 100m (330ft). Motor power: 3-210 kW (5-335 Hp).
8000 series slurry pumps
Flygt 8000.180 series vortex pumps are designed for the continuous transportation of highly abrasive solids.
Capacities range up to 1500 Usgpm with heads up to 100 feet. Motor power: 4 Hp to 74 Hp.
Applications

Mineral processing
Iron and steel production
Power generation
Mines
Construction
Other abrasive applications

Product Features

Abrasive and corrosive resistant
Portable
Slim, compact design
Silent
Easy to install
Easy to service