Diesel Dri-Prime Pumps - CD140M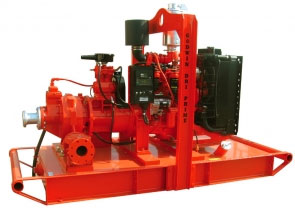 The 4" (100mm) CD140M portable diesel pump offers both elevated heads and solids handling capabilities without sacrificing flow rate. The pump achieves total dynamic heads to 280 feet (85 m), solids handling to 3" (75mm) in diameter, and flows to 1100 GPM (250 m3/h).
The CD140M is an automatic self-priming Dri-Prime pump with the ability to prime and re-prime from dry. Featuring an oil bath mechanical seal, this pump runs dry without damage, ideal for intermittent flow conditions associated with bypass pumping and backup municipal lift station applications. The CD140M complements Godwin's elevated head series of high volume solids handling pumps.
Performance Chart