1LC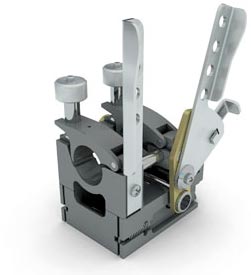 The 1LC will butt fuse ½" CTS to 1" IPS (16mm - 34mm). It features a semi-automatic locking cam (LC) system to maintain force during the cooling cycle, and incorporates McElroy's patented Centerline Guidance system.
The 1LC requires only one operator, features a more conventional design and uses the same inserts as the McElroy Mini-McTM. McElroy engineers designed the heater to locate on the guide rods of the unit, similar to the entire line of McElroy fusion machines.
1LC
Patented Centerline Guidance System for equal distribution of force around the joint
Features a locking cam system
3.8-to-1 mechanical advantage
Jaws use same inserts as Mini-McTM
Microprocessor-controller heater temperature
Serrated jaws and inserts keep pipe from slipping during fusion
ISO-compliant industrial Teflon-coated heater plate
Electric heater locates on guide rods similar to other McElroy machines
Conventional Facer Design features ball-bearing construction and gear drive for long life.